The next generation in time measurement is now available.  The GT8 Combination Clock gives organizations a flexible clock that can grow with the company's workforce and compliance needs.
Safety is paramount in today's modern workforce.  Today, technology allows for increased safety and security without requiring employees to remove their glasses or mask.
Time Equipment Company now offers the GT8 Combination Clock.  Designed specifically for continuous use in demanding environments with high traff­ic, the GT8 is both robust and secure.  This combination clock offers your employees state-of-the-art time clock technology with multiple convenient scan options.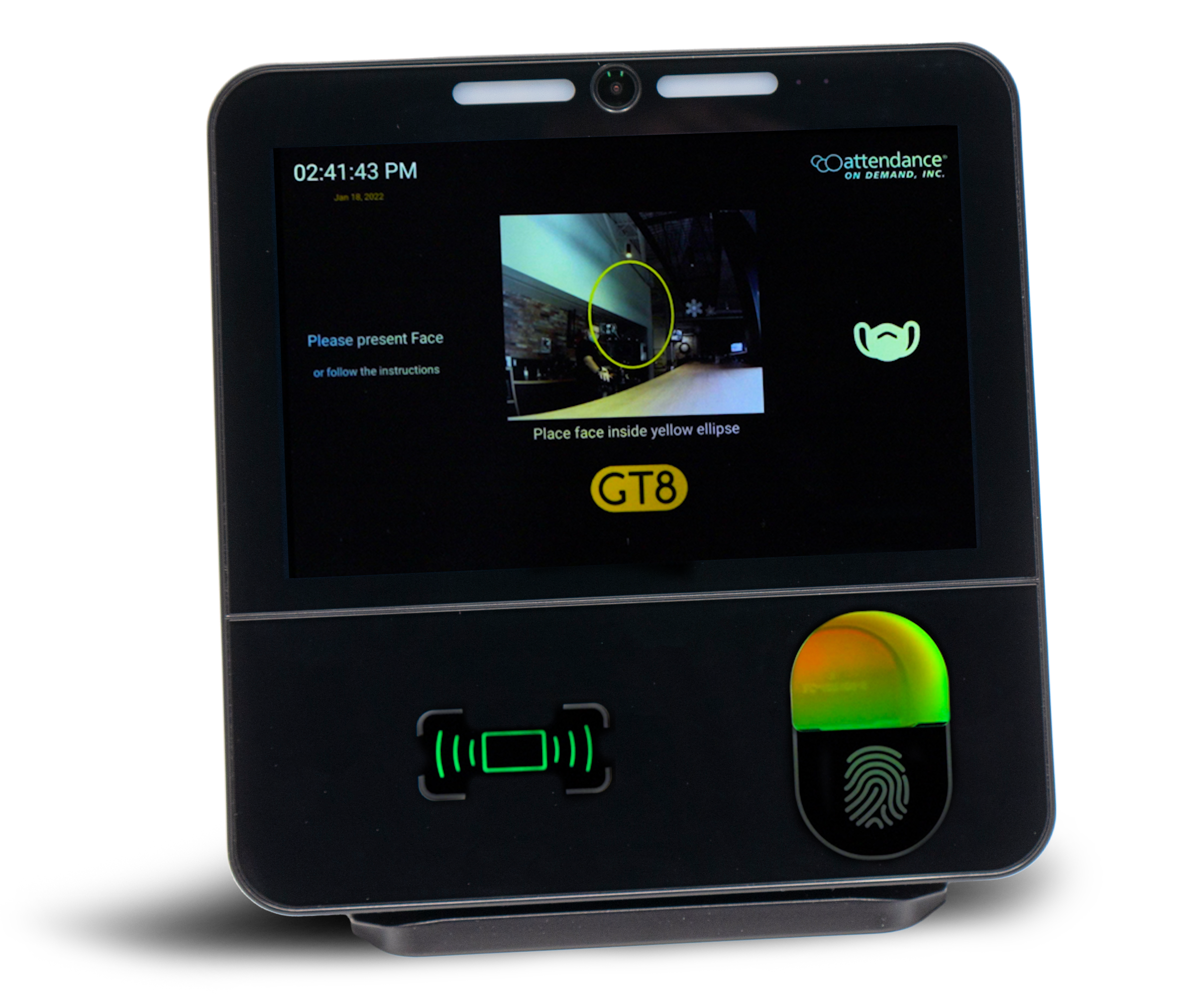 Employees can punch in using facial recognition (including masks on), badge, or finger scans.  The high-resolution, full-color 8-inch multi-punch display screen allows easy visibility for employees.  In addition, the GT8 complies with biometric data storage laws by asking for biometric consent when enrolled.  Employees can still be issued a badge and punch using the same clock if they do not consent to biometric enrollment.
This system allows any method to punch in or out for their shift in real-time.  In addition, employers can add questions to the screen to answer health-related or injury inquiry questions before or after their shift to help comply with labor regulations.
Another advantage of using a facial recognition clock is to keep people safe while eliminating 'buddy punching' – employees punching for another person. 
Integration with Attendance on Demand Time and Attendance solution is seamless.  Data synchronizes in real-time to host systems in the cloud.
Time Equipment Company is the exclusive provider of the GT8 Combination Clock. For more information on the GT8 or other clock options, contact Time Equipment Company at 800-977-8463 or sales@timeequipment.com.
*This product is not intended to diagnose or monitor any medical condition or illness and should not be used as such.  Instead, seek competent medical advice.