A Positive Approach to COVID-19 Workplace Tracking
Across industries, employers face a pressing demand to track employees' health status and comply with state COVID-19 workplace protocols.
During this pandemic, tracking 'sickness' is more important than ever.  If a person calls out sick, it is vital to ask if their sickness has symptoms of COVID-19.  Employers do not want employees calling out sick one day and then coming into work the next day because they 'feel better'.  This puts other employees and the company at risk.  In addition, it is important to track employees who may have gone to a 'high-risk COVID area' while on vacation and need to self-quarantine before coming back to work.
With Time Equipment Company's new health-screening integration, managers no longer have to wait for last-minute in-person health surveys while staying in compliance with HIPAA, CDC, OSHA, and ADA COVID-19 tracking regulations.
The Solution
Cordata's COVID health-screening software integrates seamlessly with Time Equipment Company's employee scheduling platform.
Scheduled employees receive a daily 30-second survey confirming their health and risk of COVID-19 exposure prior to coming to work.
Survey results are sent instantly to the scheduling platform, where they can be viewed and verified by managers
Healthy employees are approved to punch in
Employees who may be ill are removed from the schedule for an appropriate time period
The system tracks when employees are eligible to come back to work
All communication happens while maintaining employee privacy
In accordance with HIPAA regulations, all employee health records are stored securely and kept separate from regular personnel files.
One last thing
The final part of the process is finding a replacement for the employee who cannot work. With Visual Scheduling, it is easy to find a list of employees who are qualified, available, and will not go into overtime by taking an additional shift. With just a few clicks, a text can be sent to a list of eligible candidates who then respond if they would like to take this shift. No more calling to see if a person can come in.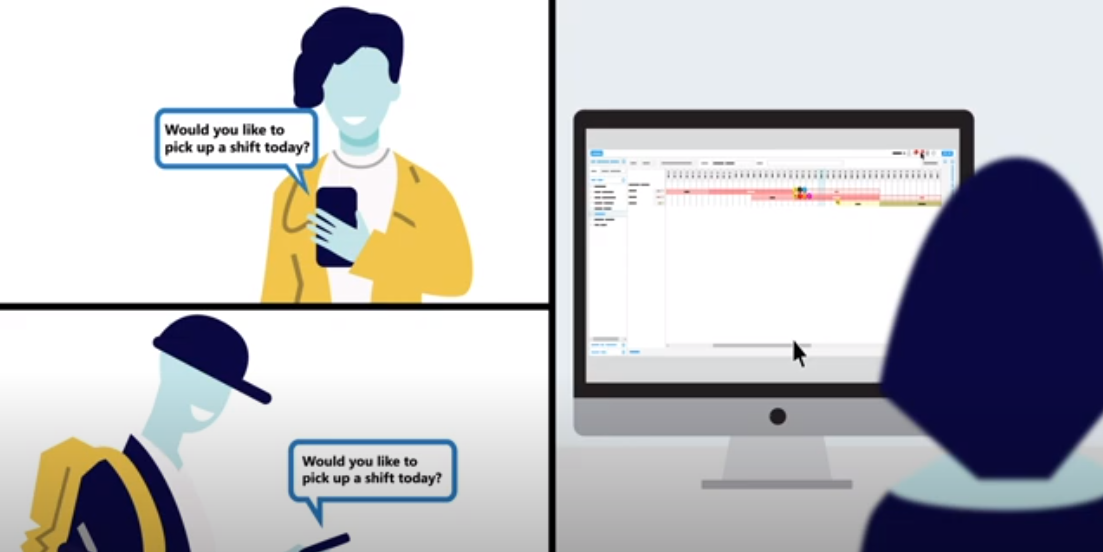 For more information on Health Screening, contact Time Equipment Company at 800-977-8463 or sales@timeequipment.com.