Attendance on Demand (AOD) is announcing the launch of a new help feature that provides users with on-demand access to the Learning Center. 
The Learning Center contains various articles and FAQs covering multiple topics, such as how to edit a time card, create employee schedules, and use Employee Self Service through a desktop or phone.  The video tutorials provide step-by-step instructions on using AOD's different features.  
The new help feature is a valuable addition to the AOD software suite, providing users a convenient and easy way to get essential support.  The knowledge base and video tutorials benefit new users, as they can provide the information they need to get started with the software quickly and easily.  
Attendance on Demand (AOD) is a cloud-based time and attendance software solution that helps businesses track employee hours and manage their workforce.  AOD offers a variety of features, including time clock management, employee scheduling, and compliance reporting.
How to access the Help feature
After logging into AOD, click on the '?' symbol in the top right-hand corner.

This action opens the Attendance on Demand Learning Center.
Selecting a module opens a page to watch videos and get additional information.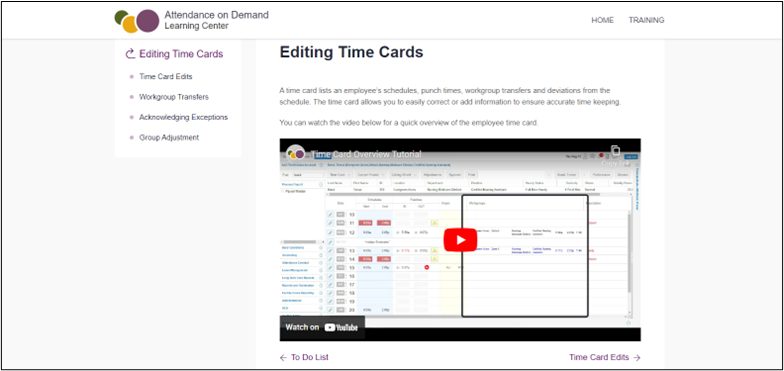 These modules are general, and the videos may not display precisely like your configuration.
How Can We Help?
For customized training on your specific configuration, contact Time Equipment Company at support@timeequipment.com or (800) 997-8463 to schedule a virtual or on-site training session with our expert on your system.