Questioning employees as the enter or clock in for work about their potential exposure to COVID-19 helps employer's defense against contagion as employees re-enter the workplace.
Although the employees' responses may not definitively establish whether an employee has contracted COVID-19 as accurately as a COVID-19 test, the employer typically can obtain the employee's answers more quickly than test results. Questions also elicit broader information about the likelihood an employee is ill than temperature screening alone.
What Can You Ask?
Employers should be aware that there are boundaries to this screening method. Littler states, "At least one state has issued guidance explaining employers cannot ask employees questions designed to determine whether they have any health conditions that would make them susceptible to COVID-19-related complications. Also, over 25 jurisdictions have issued guidance making clear employers cannot require returning employees to provide a note from a healthcare provider as a condition of returning to work. Employers should therefore avoid requiring employees to produce any medical documents in conjunction with a screening questionnaire."
Daily screening questions must tie directly to the threat posed by COVID-19.  According to the EEOC, employers can only ask questions which corollate to a 'direct threat' in their business. A Direct Threat is defined as "a significant risk of substantial harm to the health or safety of the individual or others that cannot be eliminated or reduced by reasonable accommodation."  Based on guidance of the CDC and public health authorities as of March 2020, the COVID-19 pandemic meets the direct threat standard. Otherwise, the employer increases the risk these questions will be viewed as an impermissible disability-related inquiry under the ADA.
Examples of these questions may include the following:
Since your last day of work, have your experienced a fever of 100.5 F or above?
Are you currently experiencing any of the following symptoms?

Cough
Shortness of breath
Chills
Abnormal Muscle Pain
Sore throat
Loss of smell or taste

Since your last day of work, have you been in close contact (within 6 ft.) with anyone diagnosed by a medical professional with COVID-19?
Employers also should question employees about whether they have been directed to self-isolate by a public health authority or by a healthcare provider due to potential exposure to COVID-19. This is a violation of HIPAA laws or other local ordinances.
Administering Screening Questions
To mitigate potential spread of infection in the workplace, employers should ask employee screening questions on a regular basis.  The best opportunity to ask these questions are as employees enter a workspace (building, floor, office, etc.) or as they clock in for work.  These should be yes or no questions in order to avoid any confusion.
Finally, employers must treat documentation relating to the results of screening question as a confidential medical record. The ADA requires employers to maintain the confidentiality of the results of health-related questions and medical exams aimed at determining whether a returning employee constitutes a "direct threat" to the workplace as the result of COVID-19 infection. The ADA also requires employers maintain these records in a file separate from the personnel file. Only those employees within the company who need the health-related information to combat the threat of COVID-19 in the workplace should have access to the screening results.
Solution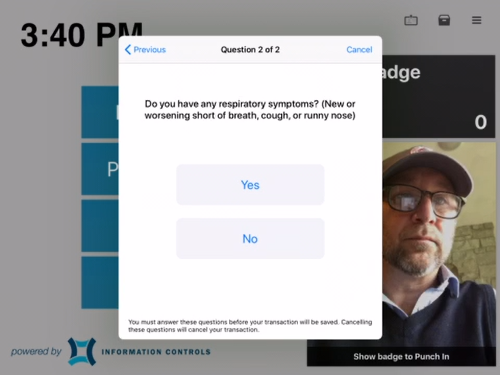 Time Terminal, offered by Time Equipment Company, solves implementing Employee Daily Screening Questions.  Used on any Apple Device, Time Terminal captures punches in real-time and connects with Attendance on Demand. Once a person clocks in and/or out for work, it immediately prompts for the screening questions.  If in a remote area without internet access, Time Terminal will continue to operate off-line collecting employee transactions. Punches and responses remain stored on the device until an internet connection is re-established.  Once the device has internet access, the results are downloaded on a secure server to only be accessed by those with proper authorization.
For more information on Time Terminal, contact Time Equipment Company at (800) 997-8463 or sales@timeequipment.com.